I finally laid my hands on Guitar Hero: On Tour (GHOT) 2 nights ago thanks to a friend of mine who works in a gaming shop. It was actually just for display but then they manager was kind enough to let me try it out.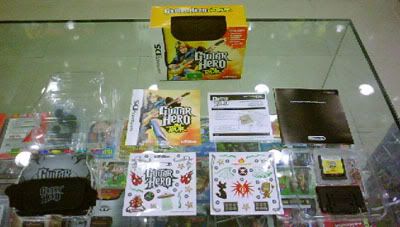 picture courtesy of Philip of Mars Games & Toys Station @ City Mall, Kota Kinabalu
I played a few tunes and I liked it.
The only problem is the Guitar Grip itself. Vicarious Visions did great on it but its a problem to those who has medium hands and medium length fingers or bigger. I had a hard time putting it in place. I think the best way to put it on is Guitar Grip first, get comfortable with the placing, strap on then attach your DS afterwards.
I might get this for myself soon after my priorities are done.